Southport Aerospace Centre Inc.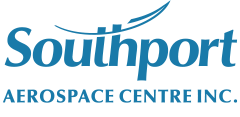 ---
Southport Aerospace Centre Inc., located just 3km South of Portage la Prairie has led us into the wonderful world of aviation and commercial property development. Our work with Peggy May, CEO and Deanna Mitchell, the Business Development Officer, has been super fun and super diverse. We've helped develop a new creative platform, redesigned their website with database, CMS and responsive functionality. We also developed their Airshow website, corporate magazines, rack cards, infographics, flags, stationery and a corporate brochure.
Listen to a testimonial from the CEO of Southport, or another testimonial from Southport's Director of Business Development.
For more information about Southport visit their website at, www.southport.ca