________________________



EVENTS, PROMOTIONS & AWARDS


Cindy Davidson, Artist
is having a
Small Works

Gallery Opening starting Monday, June 4, 2012 at 7:30 pm, at McNally Robinson at Grant Park in Prairie Ink Restaurant. Visit her website (designed by DCom) and check out some of her amazing works! www.cindydavidson.ca


The Building Owners and Managers Association of Manitoba (BOMA
) is having its 2012 Award of Excellence Luncheon on, Wednesday, June 13, 2012 at the Delta Winnipeg. For more information visit their website.

World Elder Abuse Awareness Day (WEAAD)
is coming up on June 15th. WEAR PURPLE and make sure to check out their NEW website designed and programmed by Dubyts Com., at
www.weaadmanitoba.ca

The Manitoba Quality Network (QNET
) has a number of training programs coming up in June. Check out thei

r
Upcoming Events
f

or more information and to register.
The
Manitoba Tourism Education Council (MTEC)
has some great training opportunities available for tourism, retail and general business. Visit their website at
www.mtec.mb.ca
for more information. (website designed by DCom)
_________________________



Forward to a Friend







Know someone who might be interested in receiving our monthly e-news or monthly Marketing Tip? Pass it on!




Focus = Success

A tight, narrow business focus is key to business success regardless of business size. Take Google. Their focus is simple: sell online ads, expose people to said ads, and get the users to click. Google is very, very good at executing those steps according to searchenginewatch.com, June 2011.

But although their focus is simple Google's business model is the furthest thing from simple. It involves winning loyalty across every facet of the Internet experience. From search to local to social to productivity to mobile and more. So how does this fit into simple? Well, every new product they launch keeps the company's focus at the forefront with the objective to increase the overall time spent on Google services, and thus more time exposed to ads, not to mention increased brand loyalty.

Apple is another great example. They very simply sell products people want. Their range of products is very small and, as Tim Cook says, would fit on a single conference table. They make great products, consumers love them and they buy them by the truckloads. "It is a classic example of a market-leading business with a tight, narrow focus that operates within a deep and prosperous niche", according to

unclutteredwhitespaces.com

However, large multinationals aren't the only great examples of focus = success. Think about some of your favorite successful small businesses doing exceptional work. The organic bakery down the street that makes the most amazing whole wheat breads and cinnamon buns; your local handyman who can fix anything but refers you to his best friend to build your new fence.

It's such a simple strategy. Why don't all companies do it (we're not sure) and what happens to great companies who lose focus? Well, keep an eye on Starbucks, the subject of a recent article in Forbes online, "Is Starbucks Losing Focus?" This might be a learning moment for all of us and a new chapter for the business history books.

Made from scratch breakfast - all day long!
Speaking of focus, a successful local restaurant chain has kept its focus and has been, "Flipping for Winnipeg for over 50 years!" The Original Pancake House focuses on breakfast, made from scratch, served all day, everyday!*
A few of my OPH favorites are Banana Split Crepes, Sausage and Eggs (you get 4 sausages!) and of course their signature, Giant Apple Pancake!
Check out their new website at www.originalpancakehouse.ca (designed and programmed by the D.Com Team). Enjoy the sites new fresh, clean layout, interactive kids game and their complete online menu, which is sure to make your mouth water. Then head over to one of their three Winnipeg locations and enjoy!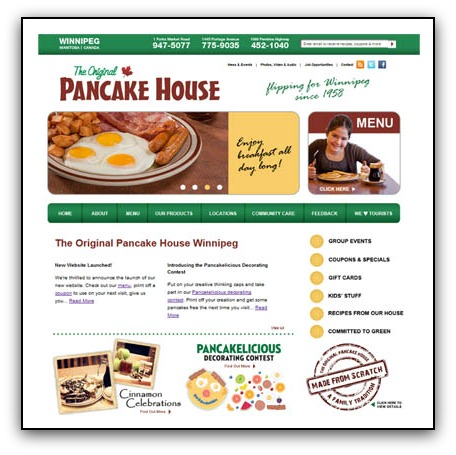 P.S. If you want a sandwich, soup or other nonbreakfast alternative, they do have a great selection of other scratch made menu items.