When it comes to marketing the AIDA concept has stood the test of time and still remains fundamental in marketing today. You need to get their Attention, generate Interest, invoke Desire and finally, give them a response mechanism to Act.
Q: But how do you do this?
A: Entertain them. Play with them. Get them to interact with your brand.
Check out our NEW e-zine created to do all of these things. (click on the ideaZone cover to interact with our brand)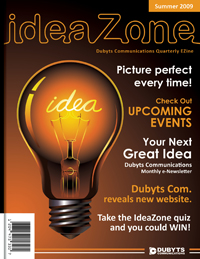 We are working with a number of clients to create similar interactive documents for things like, employee reports, company brochures and product catalogues. For some projects we start from scratch, for others we begin with an existing print publication.
Every client is different and we're not sure if this is a fit for you, but if you're interested in finding out more about this interactive and effective marketing tactic, give us a call.